Our members volunteer their time to support these programs, and the Club provides financial contributions. 
E.C. SCRANTON MEMORIAL LIBRARY
For many years, the Club has contributed a significant number of books on floral and landscape design, horticulture and conservation. Each holiday season, members decorate the library, and set up a "Giving Tree" that enables the public to donate books. Additionally, the Club has donated $50,000 to support the E.C. Scranton Memorial Library's renovation and expansion.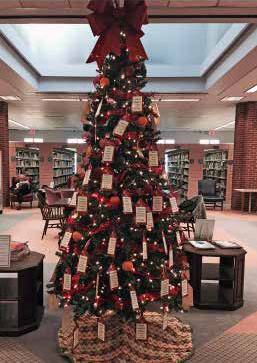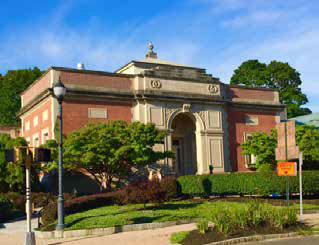 SHIRLEY GREEN HORTICULTURE AWARD
This award is presented to the Daniel Hand High School senior who has displayed academic excellence and an intention to continue study in the field of horticulture. The winning student, chosen by the school, receives a $1,000 cash prize.
BOSTON POST ROAD (CORNER OF JANNA'S LANE)
The Club has funded professional renovation of the historic area of Madison's West Cemetery along Boston Post Road. The funding for this ongoing project is determined annually.
ANGIE CAMA MEMORIAL HERB GARDEN
Madison Senior Center
29 Bradley Road
In 2017, the Club donated and planted a raised herb garden in memory of longtime member, Angie Cama. This kitchen garden is used and maintained by the Chef for meals serving many Madison residents. Our Club provides ongoing support for this nutritious endeavor with monetary donations.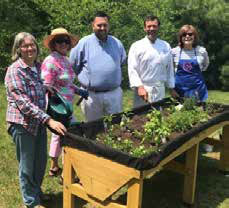 POST OFFICE LANDSCAPE RENEWAL
In 2020, the Club sponsored restoration and replanting of shrubs and perennials to enhance the property surrounding the Madison Post Office.
The Club funded the professional removal of the messy and unsightly junipers, and seeding of grass to match the rest of the planting strip along Birnbaum Lane.
The Club has funded the professional cleanup and replanting of the area surrounding Chittenden monument, located near Madison's historic Town Green.
TOWN OF MADISON WELCOME SIGN
In 2018, the Club pledged to donate the funds needed to purchase and install one of four Town of Madison welcome signs. The area surrounding the sign will be designed and planted by the Club, but maintained by the town of Madison.
GCM MAKES FINANCIAL CONTRIBUTIONS TO THE FOLLOWING ORGANIZATIONS
A Place Called HOPE
Audubon Guilford Salt Meadows Sanctuary
Bauer Farm Festival
Charlotte Evarts Memorial Archives
Connecticut Fund for the Environment
Connecticut Forest and Park Association
Connecticut Horticultural Society
Daniel Hand High School
Horticulture Program
E.C. Scranton Memorial Library
Federated Garden Clubs of Connecticut
Scholarship Fund
Friends of Hammonasset State Park
Jeffrey Elementary School Garden Club
Madison Land Conservation Trust
Menunkatuck Audubon Society
Senior Center Raised-Bed Herb Garden
Shoreline Greenway Trail
The Strong House