The Club raises funds to develop and maintain our community projects, and support other organizations that promote environmental conservation, education and civic beautification. 
Scheduled in May,  9:00 a.m. – 2:00 p.m.
Deacon John Grave House
581 Boston Post Road
This much-anticipated event is held annually on the grounds of the historic Deacon John Grave House.
A wide variety of hardy local plants, herbs, shrubs, and trees are on sale at hugely discounted prices. All of the plants come from members' gardens where they have been lovingly nurtured.
Master Gardeners will also be on hand to answer all your gardening questions!
All proceeds from this sale support various community projects sponsored by our Club.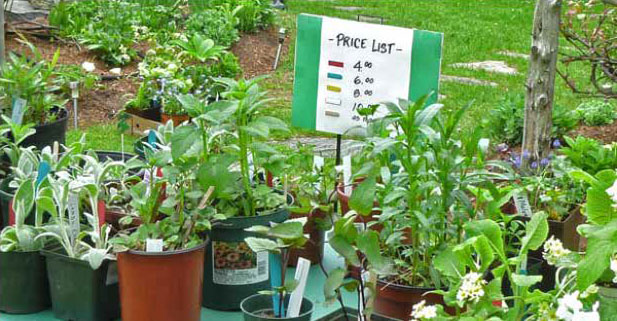 Bloomin' Bucks | Brent and Becky's Bulbs
A current catalog is displayed at the general meetings, and the committee chair sends electronic reminders of the program and ordering instructions throughout the year. The organization rebates 25% of sales to the Club.
How to order from Brent and Becky's Bulbs:
Scroll down and select: Garden Club of Madison
Click GO; on the "Reminder" page click YES
Click Spring/Fall Catalogue; scroll down and click on a picture to select your bulbs
Don't forget to order some daffodils to participate in Madison's Going Daffodils!
Questions: Call Brent and Becky's Bulbs at 877-661-2852
Shopping Day | North Guilford Nurseries
Members are allowed to shop at this wholesale plant supplier on a designated day. Ten percent of the pretax sales are rebated to the Club. Date to be announced.