At the Deacon John Grave House at 581 Boston Post Road, a wonderful selection of hardy local perennials, herbs, shrubs, cut flowers and flowering annual baskets were offered for sale at excellent prices (paid by cash or check). Profits from the plant sale benefit the Club's community gardens and beautification projects.
All of the plants come from members' gardens and local donations. Because the plants are locally grown they are suited to our local growing conditions and should thrive in your garden.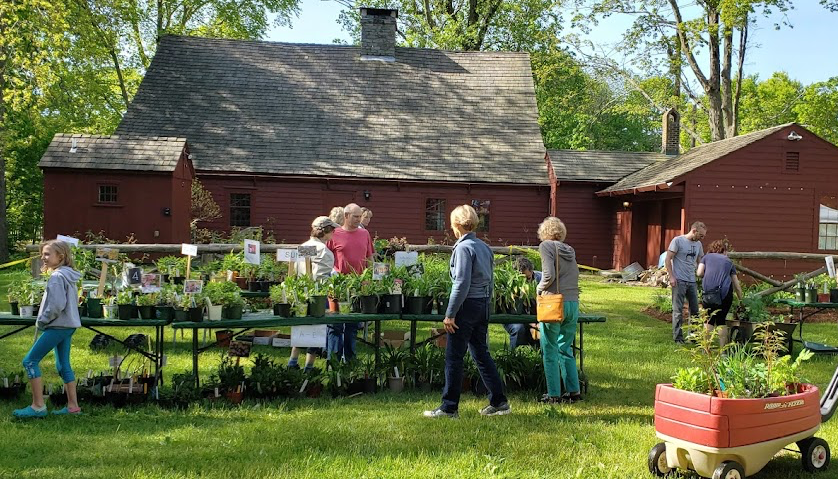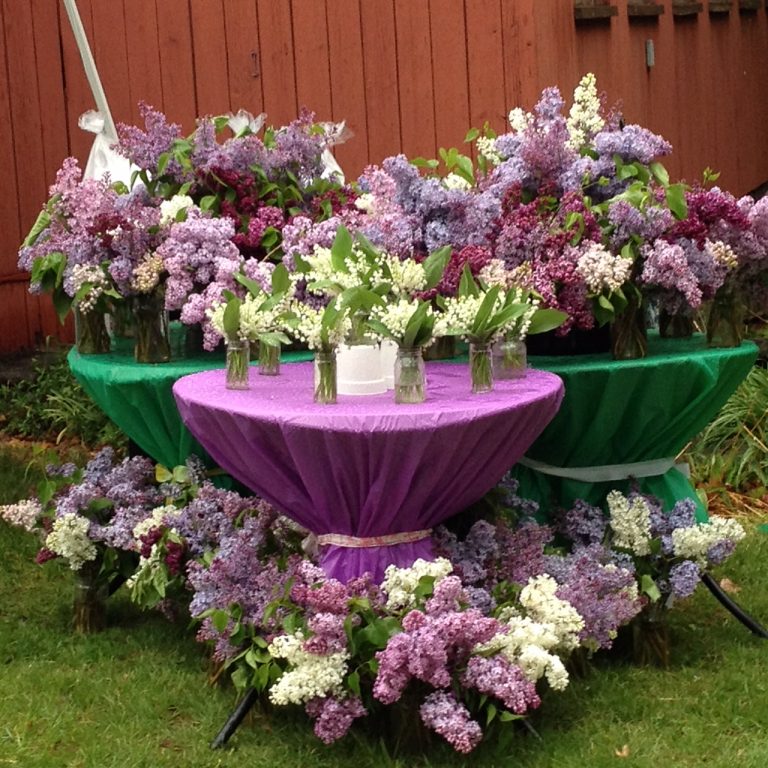 The Garden Club is supporting the project of developing bee hives in Bauer Park to increase pollination by honey bees, which are responsible for the pollination and growth of one-third of the world's fruits, vegetables, chocolate, coffee, nuts and spices. Beekeepers Lewis Strauss and Deirdre Prisco have developed two hives that each contain 12,500 honey bees near the community gardens in Bauer Park. We appreciate their vigorous efforts to restore pollination, and teach about the benefits of bees! Hope you will BEE there at Bauer!
The National Garden Club and Federated Garden Club have awarded for Bees at Bauer!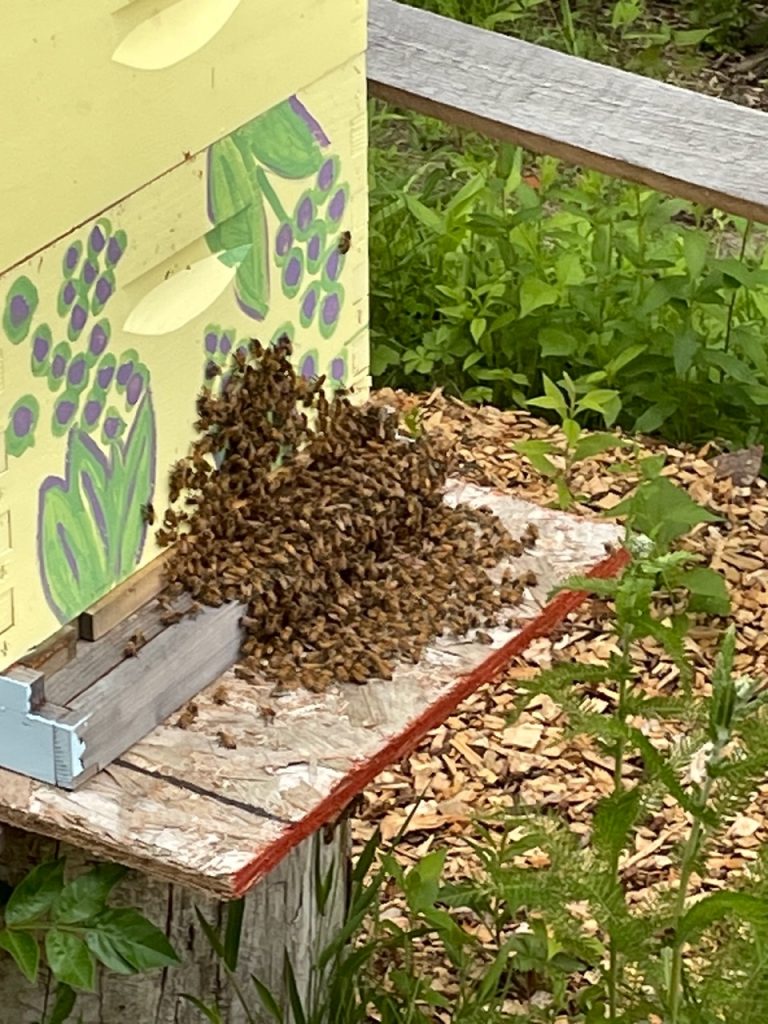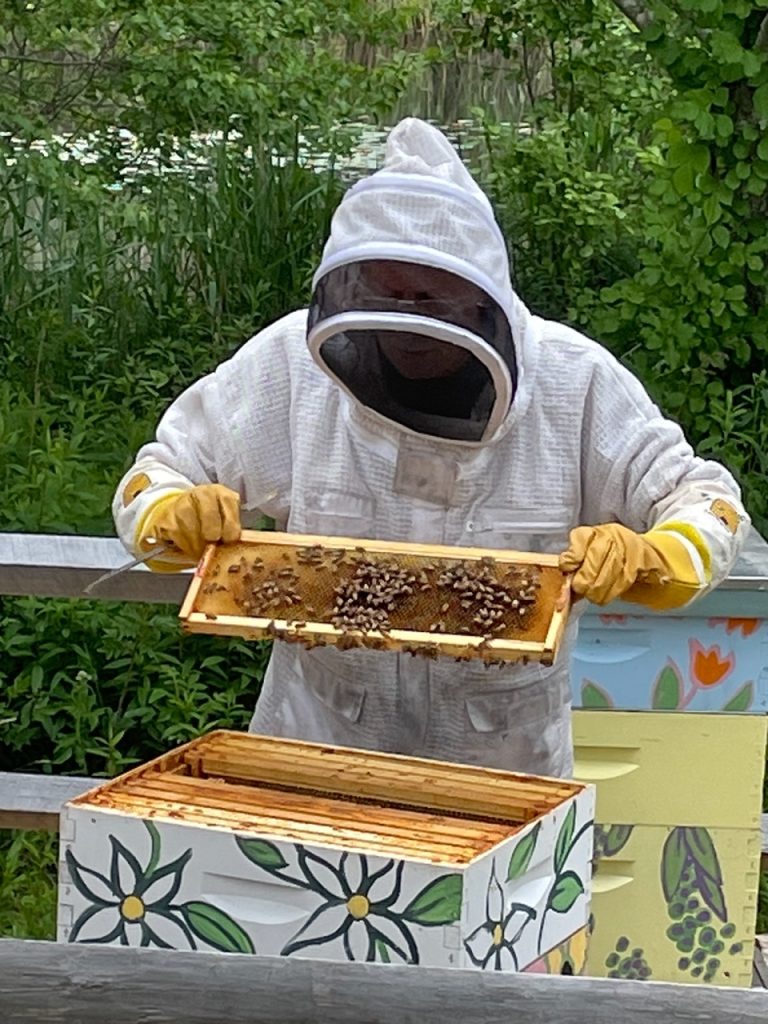 TREE PLANTING AT BAUER PARK
New Club member Tom Cleveland planned to plant 16 heritage apple and pear trees to Bauer Park. The trees were donated by Mad4Trees, as part of its outreach to add at least 200 native trees to Madison by the town's 200th anniversary by 2026. In April, a dozen volunteers planted the trees, which are historic trees-the Roxbury Russet apple developed in 1600, and the Exposus Spitzenburg was a favorite  in the early 1800s. Be sure to visit Bauer and look for the new trees:  the 6 heirloom pears along Copse Road; the apples line the farm's dirt road and are at the end, in the New Orchard.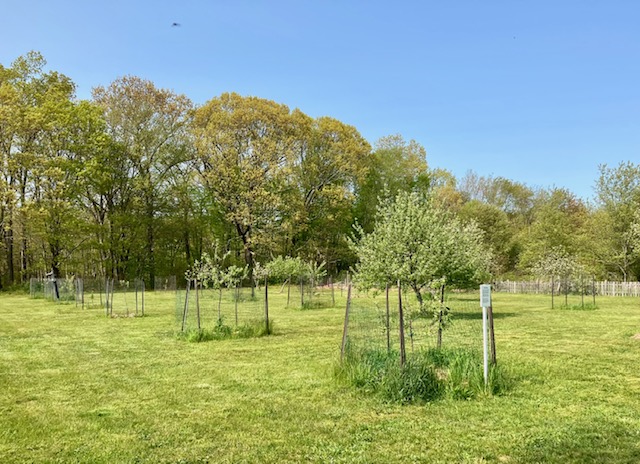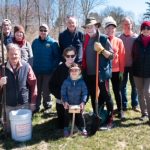 The 9/11 and James Madison Gardens were redesigned in 2023 as a texture and tapestry garden with plants suitable for on a shady site. The defining challenge of deep shade governs this garden as the overhead canopy grows larger and tree roots rob moisture from the soil. Garden Club members duties include scheduled watering and weeding the maple seedlings so prevalent. Plant material will be evaluated and adjusted in the future. Ground cover vinca minor will fill in, while spring bulbs will give a vibrant burst of color.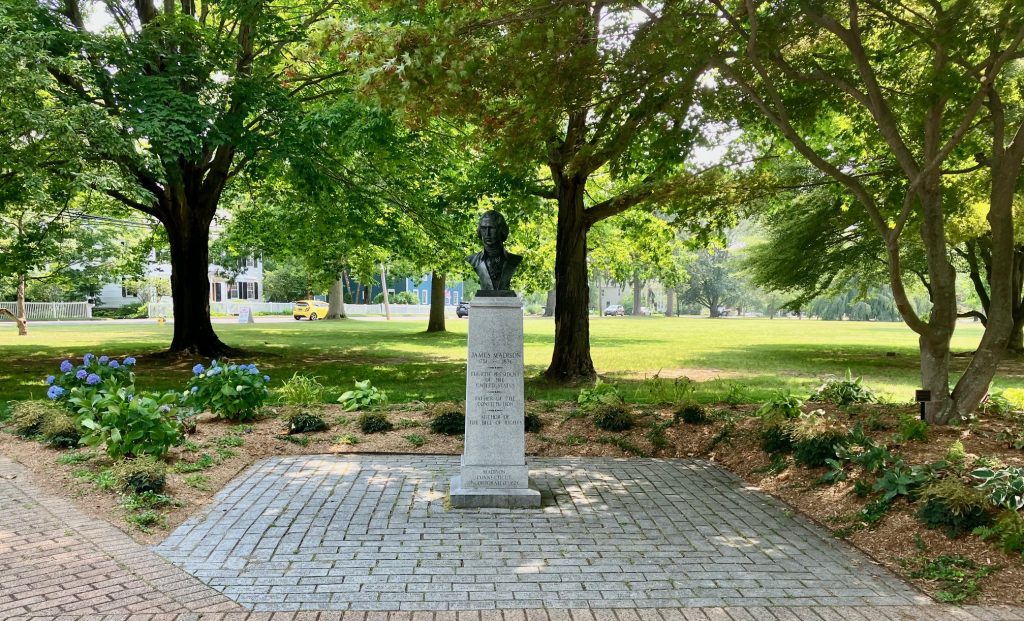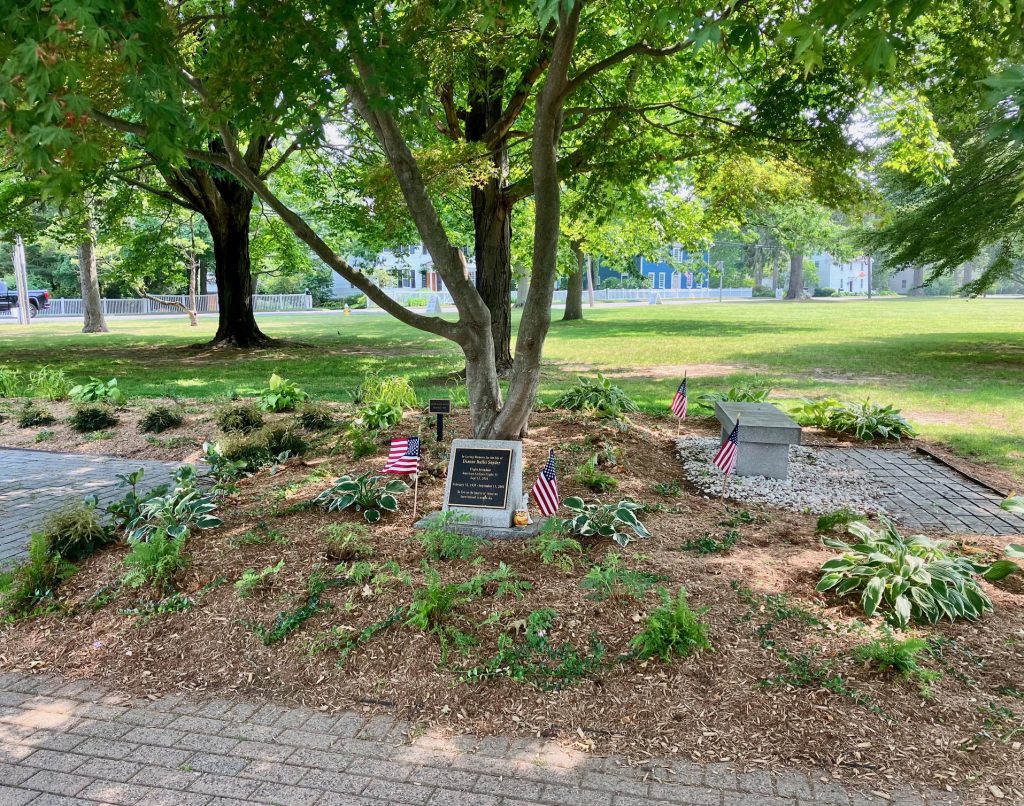 MADISON'S GOING MANY MORE DAFFODILS – AGAIN!
Delighted by the fabulous display of 2,000 daffodils blooming in 2021's  spring, the Club planted another 2,000 bulbs that bloomed in 2022's spring. Thrilled with the beautiful flowers, we'd planted another 1,000 bulbs last fall! Bulbs have been added to plantings at Deacon John Grave, East Wharf, Bauer Park, the Allis Bushnell House, Veterans' Garden, Pollinator Pathway garden and the Post Office, and several new locations–the Senior Center, and a walkway alongside the Walker Loden shop!  To see daffodils, click here.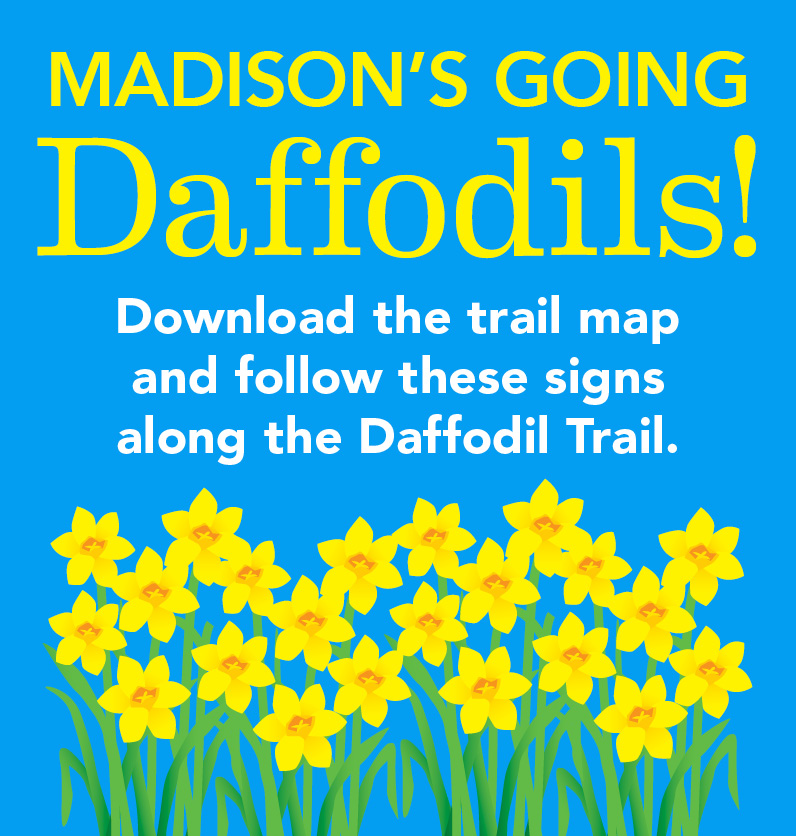 The Club has provided Garden Therapy for over 55 years. Currently we are providing a "simulation" of an experience that has senior residents use all five senses to evoke happy memories and ideas. And to converse and interact with each other, staff and volunteers. Past simulations have included Farmers Market and Harvest Fall Festival. Also, residents are given a small token from the event to display in their rooms and keep the conversations going. Holiday themed simulations have taken place in several months!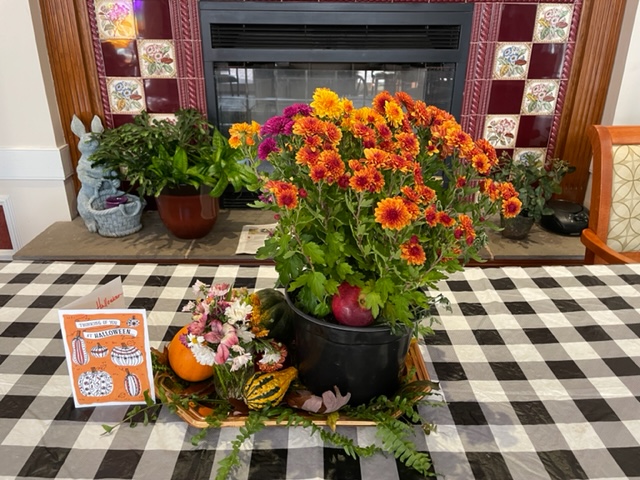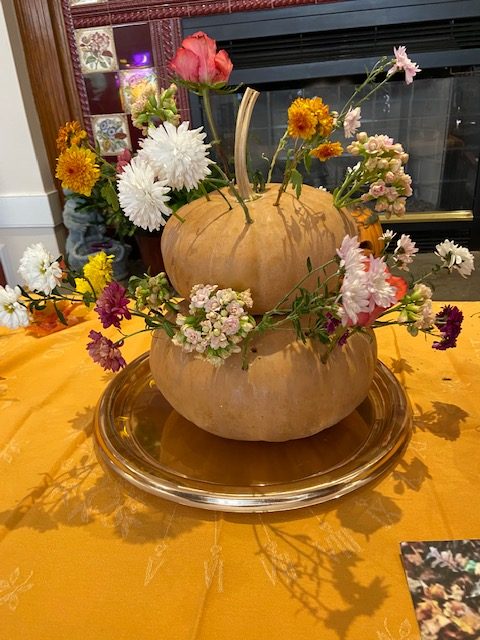 While the pandemic postponed indoor gatherings, the Club held wonderfully educational and entertaining meetings on Zoom, planted beautiful bulbs throughout town, and welcomed new members who look forward to participating in the club's many projects and activities. Spring, summer and fall events were  scheduled, and we've been delighted to get together and garden again!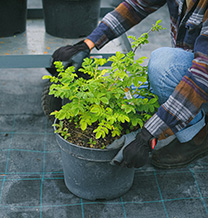 MAINTAINING THE BEAUTY OF MADISON
With the warm, sunny weather, our gardens grew wonderfully! Last spring and summer, volunteer members took the opportunity to water, weed, prune, and share the joy of gardening at five gorgeous town gardens. Located at various historic sites and parks, these gardens have been designed, developed, and maintained by members in support of the Club's ongoing civic beautification projects. (Pictured: Deacon John Grave House, Perennial Garden For more information and plant lists, click here.

From spring through the month of August, members will have the opportunity to enjoy "Open Gardens," a club initiative in which members and Madison residents open their private gardens for viewing.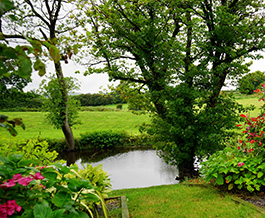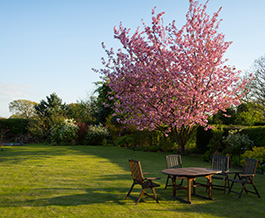 VETERANS' MEMORIAL GARDEN
Successfully accomplished in time for the Memorial Day Ceremony, the Veterans' Memorial Garden has been renewed with shrubs and perennials in calming green and white tones that will complement the monuments and provide interest in all four seasons. The newly designed plantings will honor our town's Veterans, and be enjoyed by visitors who come to the Madison Town Green.

POLLINATOR PATHWAY GARDEN
Our Club supports the Madison Pollinator Pathway Project, which is developing an educational native plant garden at the E.C. Scranton Library. The new garden will create a pollinator-friendly habitat that will encourage bees, butterflies and other pollinators to sustain our environment and support food plants. 
The Madison Pollinator Pathway Project works to preserve, protect and develop pollinator habitats throughout town. By joining the Pollinator Pathway Project, residents can help extend connections from their properties to land-trust sites, town and state gardens, and other private properties. For more information: pollinator-pathway.org/madison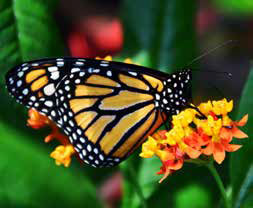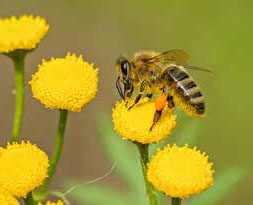 Club members attended the Bauer Park Fall Festival on October 15, giving away 350 daffodil bulbs (five per bag with planting instructions) in the first 90 minutes! Thirty bulbs were donated to the Greenway Trail and twenty to Rettich Preserve.  
In addition to informing our "Madison's Going Daffodils" project, we also spoke about extending the Bauer Apple Orchard and working with Tom Cleveland to plant heritage varieties of pears and apples. A number of people volunteered to help with this project. Our friendly keepers of the Bees at Bauer, Deidre Prisco (now a GCM member) and Lewis Strauss were with us.  Their open hive demonstrations were very popular, and Honey from the Hives was available for purchase with the money going to Bauer Park.