What's Been Happening . . .
Club members are meeting in person at outdoor general meetings, and may attend indoor meetings, kindly wearing a mask. While the pandemic postponed indoor gatherings, the Club held wonderfully educational and entertaining meetings on Zoom, planted daffodils throughout town, and welcomed new members who look forward to participating in the club's many projects and activities. We'll be delighted to get together and garden again!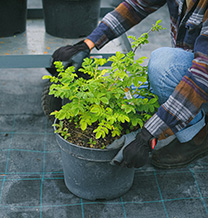 MAINTAINING THE BEAUTY OF MADISON
With the warm, sunny weather, our gardens are growing! This spring and summer, volunteer members once again took the opportunity to water, weed, prune, and share the joy of gardening at five gorgeous town gardens. Located at various historic sites and parks, these gardens have been designed, developed, and maintained by members in support of the Club's ongoing civic beautification projects. (Pictured: Deacon John Grave House, Perennial Garden)

From spring through the month of August, members have the opportunity to enjoy "Open Gardens," a club initiative in which members and Madison residents open their private gardens for viewing.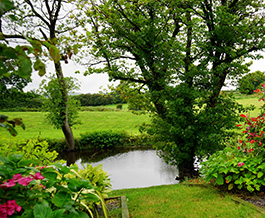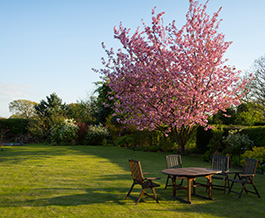 VETERANS' MEMORIAL GARDEN
Successfully accomplished in time for the Memorial Day Ceremony, the Veterans' Memorial Garden has been renewed with shrubs and perennials in calming green and white tones that will complement the monuments and provide interest in all four seasons. The newly designed plantings will honor our town's Veterans, and be enjoyed by visitors who come to the Madison Town Green.

POLLINATOR PATHWAY GARDEN
Our Club supports the Madison Pollinator Pathway Project, which is developing an educational native plant garden at the E.C. Scranton Library. The new garden will create a pollinator-friendly habitat that will encourage bees, butterflies and other pollinators to sustain our environment and support food plants. 
The Madison Pollinator Pathway Project works to preserve, protect and develop pollinator habitats throughout town. By joining the Pollinator Pathway Project, residents can help extend connections from their properties to land-trust sites, town and state gardens, and other private properties. For more information: pollinator-pathway.org/madison